I made my mom huevos rancheros for mothers day.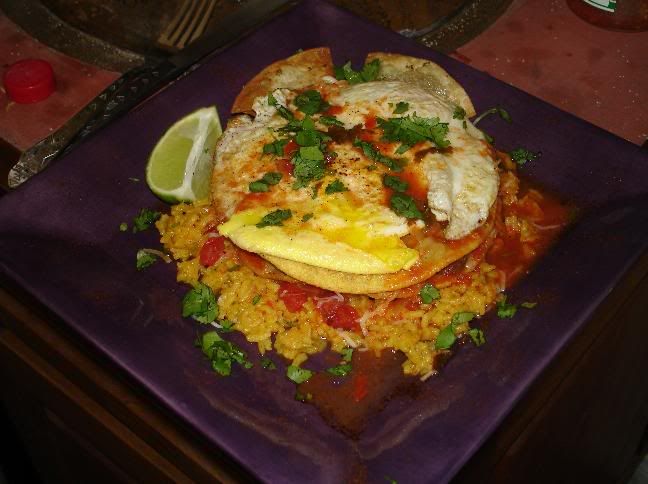 10 eggs
1 24oz jar of your favorite salsa
1 qt chicken broth
2 cans of pinto or black beans
3 oz chorizo
10 corn tortillas
1 bunch chopped cilantro
a bag of mexican rice mix
and a bag of mexican cheese mix
frying oil

the sauce:
fry half of the choriso in a saucepan until mostly liquid. add the jar of salsa and cook untill the tomatos become soft and break apart easily. pour about half a cup of the chicken stock in and stir untill the tomatos/choriso combine with the stock and arn't chunky anymore. add the rest of the chicken stock and reduce to desired consistancy. I add some of the chopped cilantro cuz I love the shit.

the beans:
add the other half of the choriso to another saucepan and fry untill mostly liquid. Stir in the beans and heat through.

cook the rice according to the packages directions(I tried making this from scratch but they never turn out right)

the assembly:
fry 2 tortillas flat like you're making a tostada. fry 2 eggs. put about 1/5 of the rice on the plate, then pour about half a ladel full of the sauce on top. then put one of your fried tortillas ontop of this, followed by 1/5 of the beans. put a handfull of the cheese mix ontop of the beans, follow with another half ladel of sauce. place the second tortilla on top of the beans and push lightly down to flatten everything out. place the egg on top of the tortilla and pour on a ladel full of the sauce. sprinkle cilantro on top and around the base.

makes 5 servings.